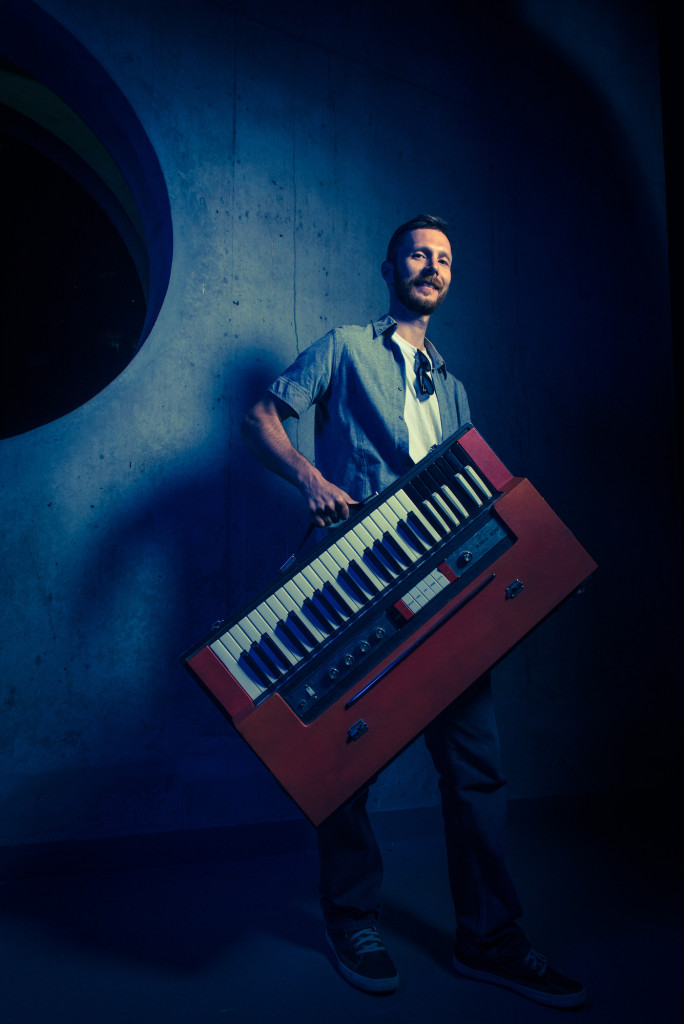 Knuckleduster Music Inc. is an independent music production house based in Vancouver, British Columbia; owned and operated by producer, songwriter, and keyboardist, 
Georges Couling
.
Georges holds a Bachelor of Applied Music Degree from Vancouver Community College, and studied jazz piano with some of Canada's top pianists, including: Bob Murphy, Sharon Minemoto, Alan Matheson, and Bill Sample. He developed his skills as a songwriter and producer at Bananatoons and SA Trackworks under the mentorship of award winning songwriters and producers Sean Hosein (Kelly Rowland), Dane Deviller (98 degrees), Anthony Anderson (Laura Pausini), and Steve Smith (Loverboy). Additionally, he has studied film composition privately with Jim Guttridge (HiTower Music).
Georges created Knuckleduster Music Inc. in November 2010. Through Knuckleduster Music, Georges has produced folk, rock, and pop recordings for Portage and Main; Redbird; Stef Lang; Juno award winner Elaine "Lil' Bit" Shepherd; Lydia Hol; Terence Jack, and more. Portage and Main's "Better Man" produced, engineered, and mixed by Georges spent 10 weeks in the top 10 on CBC's R3 Chart.
As a composer, Georges has contributed music to feature films such as: Dawn Rider (Christian Slater, Donald Sutherland, Jill Hennessey); and Thomas Kinkade's Christmas Miracle. He composed the musical score for the documentary series Eastside Stories (Telus Optik TV). His music production has also appeared in TV shows such as Arctic Air (CBC), and Continuum (Showcase).
As a sought after musician, Georges's piano and keyboard styles cross over many genres, with influences ranging from: jazz great, Bill Evans; country legend Floyd Cramer; to organists, John Medeski and Ray Manzarek. As a versatile musician, he has performed with folk rockers, Portage and Main; the afro-funk group, Camaro 67; reggae artist, Elaine "Lil' Bit" Shepherd; roots rockers, The Matinée; indie pop band, BESTiE; rockers Lions in the Street; singer/songwriter, Nat Jay; and vocalist, Jasmin Parkin (Mother Mother), to name a few.
Georges is a faculty member at Vancouver Community College, where he teaches recording, production, and online media. He has worked on jingles for all types of retailers (including car dealerships Nissan, Kia, and Chevrolet). He is one of the resident producers and engineers at DCM Studios.
Artwork
Artist
Song Title
Album Title
Producer(P)
Writer(W)
Musician(M)
Year
Camaro 67
Bitchin' Camaro
Burn Rubber, Not Your Soul
P/M
2016
Camaro 67
Voyager
Burn Rubber, Not Your Soul
P/M
2016
Camaro 67
The Road
Burn Rubber, Not Your Soul
P/M
2016
Camaro 67
Carrot Juice
Burn Rubber, Not Your Soul
P/M
2016
Camaro 67
SpaceDrifter
Burn Rubber, Not Your Soul
P/M
2016
Camaro 67
Funkarrific
Burn Rubber, Not Your Soul
P/M
2016
Camaro 67
Helicopter (feat. Ndidi Cascade)
Burn Rubber, Not Your Soul
P/M
2016
Camaro 67
Sink it
Burn Rubber, Not Your Soul
P/W/M
2016
Camaro 67
Slow Burn
Burn Rubber, Not Your Soul
P/M
2016
MoonDrifter
Nowhere
MoonDrifter
P/M
2015
MoonDrifter
Wide Awake
MoonDrifter
P/M
2015
MoonDrifter
Anne Marie
MoonDrifter
P/M
2015
Monica Siu
Give Me One Reason Why
(Deluxe Version)
Single
P
2015
Monica Siu
Christmas All Through the Year
(Deluxe Version)
Single
P/M
2014
Monica Siu
Alive
Alive
P
2014
Monica Siu
Finally Free
Alive
P
2014
Monica Siu
Give Me One Reason Why
Alive
P
2014
Monica Siu
Christmas All Through the Year
Alive
P/M
2014
Terence Jack
Alberta Love
Reckless Abandon
P/M
2014
Terence Jack
Treasure Map
Reckless Abandon
P/W/M
2014
Terence Jack
Lorena
Reckless Abandon
P/M
2014
Terence Jack
Fault
Reckless Abandon
P/M
2014
Terence Jack
Run
Reckless Abandon
P/M
2014
Terence Jack
Minus Love Minus You
Reckless Abandon
P/M
2014
Terence Jack
Please Don't Go
Reckless Abandon
P
2014
Terence Jack
Home is Where the Heart is
Reckless Abandon
P
2014
Tanya Gallager
Come Home
Oh My Love
M
2013
Tanya Gallager
Fell Apart
Oh My Love
M
2013
Tanya Gallager
Planes
Oh My Love
M
2013
Tanya Gallager
Say Goodbye
Oh My Love
M
2013
Tanya Gallager
You Me
Oh My Love
M
2013
Portage and Main
Never Had The Time
Never Had The Time
P/M
2013
Portage and Main
Better Man
Never Had The Time
P/M
2013
Portage and Main
Oona Jean
Never Had The Time
P/M
2013
Portage and Main
As A Child
Never Had The Time
P/M
2013
Portage and Main
Epitaph
Never Had The Time
P/M
2013
Portage and Main
Lied To Me
Never Had The Time
P/M
2013
Portage and Main
Good Morning Sunshine
Never Had The Time
P/M
2013
Portage and Main
Sweet Darlin'
Never Had The Time
P/M
2013
Portage and Main
This Old Heart
Never Had The Time
P/M
2013
Portage and Main
It Is You
Never Had The Time
P/M
2013
Elaine Shepherd
Til The Sun Comes Up
New Day
P/W/M
2013
Elaine Shepherd
Run
New Day
P/W/M
2013
Elaine Shepherd
Slipping Away
New Day
P/W/M
2013
Elaine Shepherd
New Day
New Day
P/W/M
2013
Lions in the Street
All for Your Love
On the Lam
M
2013
Lions in the Street
Tighten the Reins
On the Lam
M
2013
Lydia Hol
This Fire
Single
M
2013
Lydia Hol
Bitter Heart
Single
P
2013
Rykka and Beastie
We'll Be Together
Road Songs
M
2013
Rolla Olak and Willhorse
Let it Roll
Road Songs
M
2013
Colin Easthope
Fire
Timothy Lake
M
2013
Miami Device
Ivory Coast
Monopoly
M
2012
Miami Device
M.P.B
Monopoly
M
2012
Miami Device
Landmine
Monopoly
M
2012
Miami Device
Indian Arm
Monopoly
M
2012
Miami Device
Lost Continent
Monopoly
W/M
2012
Miami Device
Paradise
Monopoly
M
2012
Miami Device
Drugs
Monopoly
M
2012
Miami Device
Giant
Monopoly
W/M
2012
Jimmy Baldwin
Changing Time
Changing Time
M
2012
Jimmy Baldwin
Big Eyes
Changing Time
M
2012
Jimmy Baldwin
Hands Off You
Changing Time
M
2012
Jimmy Baldwin
Every Time
Changing Time
M
2012
Jimmy Baldwin
Toys
Changing Time
M
2012
Jimmy Baldwin
Production Way
Changing Time
W/M
2012
Jimmy Baldwin
Hellbent
Changing Time
M
2012
Jimmy Baldwin
Bury the Hatchet
Changing Time
W/M
2012
Jimmy Baldwin
Waves
Changing Time
M
2012
Lydia Hol
Diane
Boats
P
2012
Lydia Hol
Riches & Gold
Boats
P/M
2012
Lydia Hol
Boats
Boats
P
2012
Lydia Hol
Honey
Boats
P
2012
Lydia Hol
Weighing Me Down
Boats
P
2012
Lydia Hol
West I Am
Boats
P
2012
Redbird
The Tower
Single
P/M
2012
Portage and Main
with Harpoonist and the Axe Murderer
Wake Up
Love and Bravery
M
2012
Schara Taylor
Christmas is Here
Christmas Miracle
P/W/M
2012
Schara Taylor
Ride
Dawn Rider
P/W/M
2012
Portage and Main
Little Hearts
With Bells On!
P/M
2011
Portage and Main
Nothing (Take What You Need)
Portage and Main
P/M
2011
Portage and Main
What Have I Done
Portage and Main
P/M
2011
Portage and Main
The Morning After
Portage and Main
P/M
2011
Portage and Main
Rocky Mountain Wanderer
Portage and Main
P/M
2011
Portage and Main
Song For My Mom
Portage and Main
P/M
2011
Portage and Main
I'm Going Down Tonight
Portage and Main
P/M
2011
Portage and Main
Tonight Pt. 1
Portage and Main
P/M
2011
Portage and Main
Tonight Pt. 2
Portage and Main
P/M
2011
Portage and Main
When You're Gone
Portage and Main
P/M
2011
Portage and Main
Follow Me My Love
Portage and Main
P/M
2011
Portage and Main
I'd Never Climbed A Mountain
Portage and Main
P/M
2011
Portage and Main
Carolina
Portage and Main
P/M
2011
Leathan Milne
The Landing
The Outcome of Weather
M
2011
Miami Device
Illogico
Miami Device
M
2009
Miami Device
Taurus
Miami Device
M
2009
Miami Device
Monopoly
Miami Device
M
2009